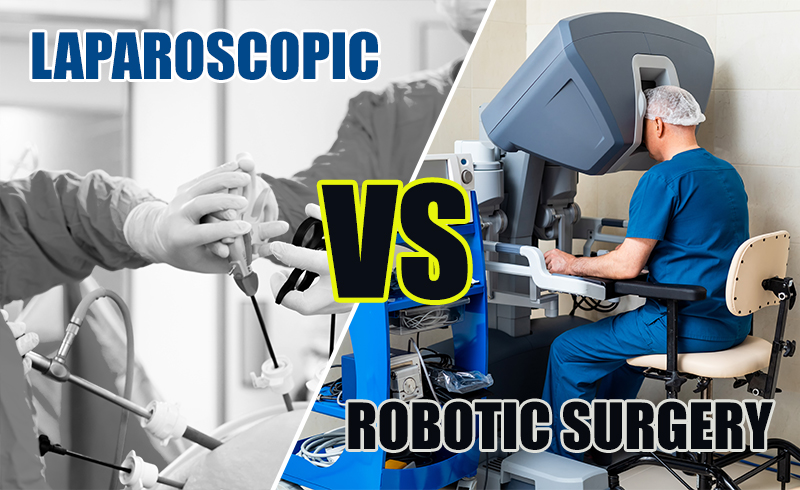 Laparoscopic surgery, sometimes known as keyhole surgery, is performed via small incisions in the abdominal wall. Laparoscopic instruments are inserted through the ports, and the surgeon performs the operation utilising the hand held laparoscopic devices. The camera is inserted through another port while an aide assists the surgeon.
Advantages of the Laparoscopic surgery are
Small incision
Less pain
Less blood loss
Magnification improves greater vision
Rapid recuperation after surgery
Robotic Surgery
Laparoscopic surgery aided by a computer is Robotic Surgery. The instruments are connected to the robot by passing through the ports. The surgeon comfortably controls the movement of the instruments from the console. The surgeon also controls the camera.
The assistant surgeon assists the surgeon by inserting instruments through additional ports. Most robots have four arms, one for the camera, one for tissue retraction, and the remaining two for surgical procedures. Without the surgeon's control, the robot is incapable of doing any procedure. On the extremely rare occasion that a robot malfunctions during surgery, the physician completes the procedure with laparoscopic equipment.
Advantages of Robotic surgery
Small incision
Less pain
Less blood loss
Magnification improves greater vision
Rapid recuperation after surgery
Those in addition to laparoscopic surgery, robotic surgery,
3D vision facilitates identification of depth of the tissue and more precise dissection
Robotic devices offer 360-degree rotational mobility, which aids in tissue suturing.
Disadvantages of Robotic Surgery
Expensive
Instruments have short life span
No tactile sensation
No insurance approval
Longer time
The advantages of laparoscopic and robotic surgery over open surgery are numerous. In complex urological surgeries, robotic surgery has fewer benefits than laparoscopic surgery.
In robotic surgery, three-dimensional vision and 360-degree wrist rotation allow for precise suturing and dissection. Therefore, robotic surgery has a distinct advantage over laparoscopic surgery for reconstructive urological treatments such as-
Robotic Prostatectomy
Improved better suturing between the urethra and bladder
Aids in the identification of vital nerves for erection and continence
Robotic Partial Nephrectomy or Nephron sparing surgery
Watertight closure of collecting system sealing to avoid urine leakage
Excision of complex and large tumor near blood vessels
Permits the preservation of normal kidneys
Robotic Pyeloplasty
A watertight anastamosis is required for success of Pyeloplasty
Complex or Re-do Vesico-Vaginal repair
There is no clear advantage of robotic surgery in other urological procedure, particularly in ablative urological procedures such as Simple Nephrectomy and Radical Nephrectomy.
Therefore, robotic surgery is advised for difficult and complex urological surgery in patient with difficult anatomy and in reconstructive urologic surgeries.
---
APOLLO HOSPITAL CHENNAI FOR ROBOTIC SURGERY
Dr. K Ramesh is the founder of Ashvin Clinics. He is the Senior Consultant Urologist and Robotic surgeon at Apollo Main Hospital, Chennai, India. Dr. K Ramesh completed his medical school and Post Graduation in General Surgery from Kilpauk Medical College, Chennai.